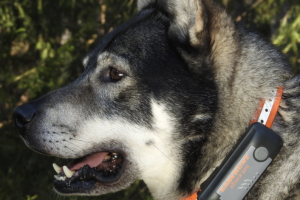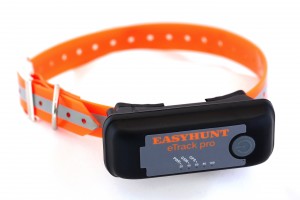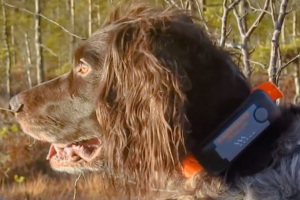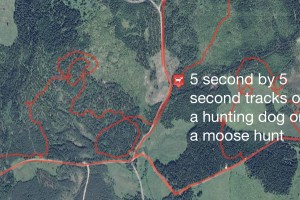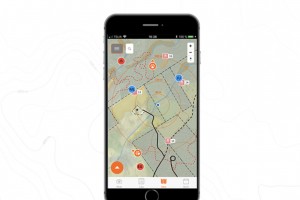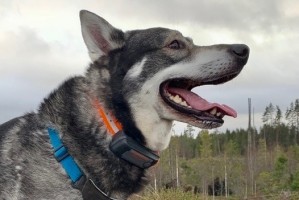 eTrack Pro €481
GPS/GSM Dog Tracking Collar

5s by 5s real-time tracking uploaded to the EasyHunt App. Every 1s when dog turning.

BARK! detection.
Call to listen to your dog.
Induction charging.

Individual Use - 1 dog.
Team Use - up to 30 users and 30 dogs.
As you are ordering form within the EU/EEA please order from EasyHunt Sweden.
EasyHunt Website
Standard Features
Designed to work in areas with poor GSM reception. The eTrack has a built-in SIM card which works everywhere across the world. The tracker automatically chooses the mobile network with the best coverage.
"BARK!" Unit comes with bark detection as standard. Call in to listen to your dog.
5 second update... location data, track and speed of dog uploaded every 5 seconds - real time tracking to the EasyHunt App on your smart phone. Additionally, when the dog turns, data uploaded every second.
Battery life: 48 hours but can be extended to several weeks with less frequent GPS/GSM upload.
Charging: Full induction charging within 6 hours. a 230/240V battery charger is included.
Protection: IP68 - Waterproof to 1m for 30 minutes
Collar weight: 240g including orange reflective collar
Size: 110 x 35 x 45 mm.
On/Off Switch.
Battery fuel guage, GPS & GSM Status via LEDs on unit and via EasyHunt APP.
Dog's position, trail, speed and direction are shown in the EasyHunt APP. It also displays your local map and on it is displays your position and any other member of your hunting team, familly or colleagues. Historic trails can also be viewed on the EasyHunt home page.
Topographic maps with property boundaries are included for Sweden, Norway and Finland. For other countries a satellite map is available.
Allows every member of your team, familly or colleagues to track your dog and other persons and dogs in same group.
Physical description
Harness: extra long length for any size of dog.
Harness: high visibilty orange with a highly relfective strip running its length.
Collar weight: 240g including extended collar.
Size: 110 x 35 x 45 mm.
Protection: IP68 - Waterproof to 1m for 30 minutes
Hardware
uBlox GPS receiver: most up to date receiver speciliased for wildlife tracking
Quad and Penta band mobile phone engine: Works in every corner of the world where GSM services are available.
Memory
Up to 512k locations; essentially no limit. Data never lost from unit. Data transmitted in real time for immediate visibility and later download.
EasyHunt APP
Data streamed at 5 second intervals (or greater depending on settings) to the EasyHunt App loaded onto your Smartphone. Data also sent to your private web access on Easyhunt.com.
EasyHunt App comes with mapping software pre-installed.
Subscription
Indiviudal Annual Subscription including Airtime and EasyHunt app and EasyHunt Web Access for one user and one dog £€96 payable to EasyHunt when you first log on through the EasyHunt app. For single use, no other costs will be incurred.
Team Annual Subscription includes Airtime, EasyHunt app and EasyHunt Web Access for up to 20 users and 20 dogs enabling all memebr of a team, family or colleagues to track the the dog(s) trail and position. As an example the cost is only €0.64 per team member (20 member team) per month plus the subscription for the dog tracker itself at €96. Both charges payable to EasyHunt when you first log on through the EasyHunt app.
Instructions on how to subscribe can be found on a note in the packaging used to ship the collar.
Tracking analysis
Create a tracking analysis by importing tracks from your eTrack or Garmin to the homepage. Run the analysis at speed and watch on the map how the dog has been moving during the hunt. If you mark it "Open" a weblink will be created and the analysis can be shared by email, text or social media.
5 (Five) Year Warranty.
The Five Year Warranty is provided by EasyHunt.com in Sweden. If you are not happy with your EasyHunt product - eTrack Pro or eTrack Mini - within 1 year of purchase, you can return it to EasyHunt AB in Sweden. If you have used it - ie there are visible scratches and we have evidence of it being used in the field from the data logging, then GPS Collars AS (in collaboration with EasyHunt AB) will refund the full price of the tracker less €50 for the eTrack Mini and less €100 for the eTrack pro. GPS Collars AS will provide the refund as we took the sale. EasyHunt will receive the collar back as they fullfilled the order.
You may cancel your subscription to the EasyHunt App within 30 days free of charge.
Get User support at www.easyhunt.com>Support
Sign Up For Our Newletter
For offers and the latest news on our case studies
eTrack Manuals
How to charge your eTrack
How to charge your eTrack