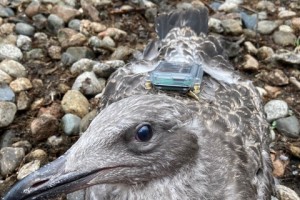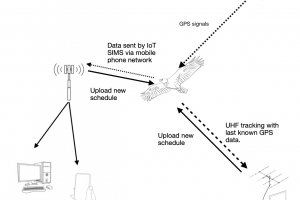 FLiteTraX
Avian & Wildlife Applications

Flat 36g & 56g GPS/GSM/UHF
Tower 38g & 44g GPS/GSM/UHF
Solar Avian Tag
Indefinte Life
IoT Roaming SIM
GSM download
Coded UHF radio tracking beacon
Geo-fence, Temp, Activity & Mortality
General Specifications
FLiteTraX Flat and Tower tags contain many features that make them one of the most advanced wildlife telemetry GPS tags available to purchase at this moment in time. At its simplest, the units collect GPS data and then stores it on board for later transmission. Transmission of the data is either through the mobile/cellphone network using Internet of Things (IoT) SIMS that jump across different networks worldwide or via a UHF radio link - see schematic diagram. Data can be uploaded hourly, daily or weekly.
Two types of GPS data are collected: GPS-to-transmit and GPS-to-archive.
GPS-to-transmit:

GPS receiver remains on for up to 180s and two locations are collected which allows direction of travel to be determined.

All data stored and then transmitted at next connection.
GPS-to-archive: GPS receiver on for a limited period of 30s to "grab" a single location. This is set at a more frequent interval than GPS-to-transmit. Data stored on board unit until a formal request is made to extract data via IoT. When downloaded, this data infills the data already collected and downloaded via GPS-to-transmit. GPS-to-archive uses 50% of the power requirements of GPS-to-transmit.
Units are programmable by the scientist using our bespoke UHF/Bluetooth WASP Receiver /Scheduler connected to a Smart phone. GPS, GSM and UHF schedules, received data and diagnostics are all programmable.
Achieve near to real-time GPS monitoring of all your birds/animals. As a result, all units provided by GPS Collars AS are capable of tracking the fine-scale movements of a variety of animals through many different habitats. Furthermore, by taking advantage of the unit's flexible scheduling option, your study can be customised to your particular research needs.
GPS Collars AS offers unlimited customer support and a full one year warranty on all of our equipment. When returned for a battery change, units are fully serviced and an additional one year warranty is provided.
Physical (LxWxD)
Flat 36g 41 x 69 x 12 mm
Flat 56g 75 x 49 x 13 mm
Tower 38g 75 x 42 x 38 mm
Tower 44g 75 x 42 x 38 mm
Expected Battery Life
Solar Powered with Indefinite life with hourly GPS and daily GSM transmit.
Hardware
uBlox GPS receiver: most up to date rceiver speciliased for wildlife tracking
Quad and Penta band mobile phone engine: Works in every corner of the world where GSM services are available.
Coded UHF Beacon and Transmission: In USA 916MHz, Rest of World 863-870 MHz: Last recorded GPS location always transmitted within UHF pulse. No need to triangulate. Full data download via UHF.
Memory
Up to 64k locations; essentially no limit. Data never lost from unit. Data transmitted to our servers and also stored on board for later download. See Tab re Download and Web Access for more information.
Mortality
The period of inactivtiy which could be interpreted as the death of an animal can be set to any time that is required. When triggered, a text is immediately sent to our servers which is then relayed on to you via email and also sent as a text your mobile phone. The UHF tracking beacon then transmits more frequently, transmitting the last known GPS location.
Activity
3D accelerometers record movement in each plane every time a location is recorded. This data can indicate various movements of the animal.
GeoFence
Enter coordinates of your study area. If the animal goes beyond that boundary an alert is sent to you via email and text.
Transmission of GPS Location Data using GSM Connection
All data downloaded via GPRS/3G. SMS via 2G/3G and included within the monthly airtime costs.
Data sent from Buffer: GPS Data is collected and stored into buffer (in addition to storing to archive) ready to be sent upon next GSM 3G connection.
Data sent from Archive: GPS Data is collected and stored into archive (locally) on board the unit and is extracted upon an explicit command from our servers. GPS data to be stored into archive can be collected more frequently than GPS data stored into buffer. The interval between successive GPS location points stored into archive and successive GPS location points stored into buffer can be different. GPS power drain is extremely small while GSM power drain is very high particularly where 3G and 4G signals are poor. Therefore, in poor GSM areas, we can set the archive GPS data to a high rate - 15 minutes for example, while the GPS data to buffer can be far lower - 4 hours for example. When the unit connects in poor service areas, then only a small packet of data is sent from the buffer which is more likely to be successful. When the unit comes into a better service area, we can then request to download all the data out of archive.
Data sent Immediately: GPS Location Data is collected (stored into archive and buffer) and is sent immediately by SMS text. Sending data via SMS text in this manner will incur additional charges and is outside the scope of the monthly airtime costs.
Transmission of GPS Location Data using UHF Beacon/Connection
Beacon: Every 4.3 seconds, the unit transmits a pulse from the UHF beacon - just like a standard VHF radio tag. The unit will also transmit the last recorded GPS location (Lat Long) which is displayed on the hand held receiver.
Line of site the beacon and data download will work up to 5km.
Programming of collars and tags
Units are programmable by the scientist using our bespoke UHF/Bluetooth WASP Receiver /Scheduler connected to a Smart phone. GPS, GSM and UHF schedules, received data and diagnostics are all programmable.
SIM Cards and Web Access
We provide an IoT Roaming SIM card pre-installed into the unit and provide your own unique web access to your own web page.
Using the Web Interface
Support
Support is via email/web/phone. While on the animal, our engineers monitor the units to ensure that they are connecting to masts, collecting GPS and for battery usage. We will inform you if the battery usage is too heavy or whether you could get more fixes. Battery usage is determined by view to the sky and proximity of cell phone masts.
Warranty
All units are covered by a warranty against mechanical or electronic failure for up to 1 year. Visit www.gps-collars.com for full terms and conditions of sale.
Delivery
Delivery is within 8 weeks of order.
Payment in full upon order.
Sign Up For Our Newletter
For offers and the latest news on our case studies