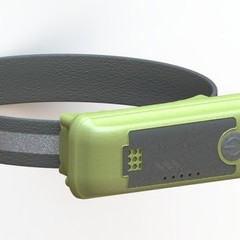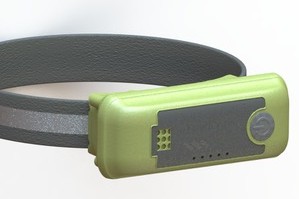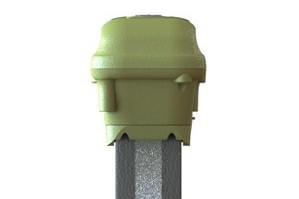 AgTraX Pro
Intensive Agricultural Research Applications

300g GPS/GSM collar
48hr - 3 Month Battery Life
From GPS & GSM upload every 5 seconds
IoT Roaming SIM cards pre-installed
Sound, Temp, Activity & GeoFence
AgTraX Pro is the most advanced tracking collar available on the market today specifically designed for Intensive Agricultural Research.
At its simplest, the unit collects GPS data at 1-5 second intervals then transmits that data immediately via the GSM cell-phone network to our servers and to your mobile. Data is then available to view/download by you, either on a PC or smart phone. At 5s GPS and GSM intervals, battery life is 40 hours. At less frequent GPS and GSM intervals - up to 15 minutes - battery life can be extended to 3 months.
GPS Collars AS offers unlimited customer support and a full one year warranty on all of our equipment.
Additional features include....
Ability to work in remote areas with poor cell coverage.
Induction charging - rapid recharge within 5 hours overnight through USB.
Call into collar and listen for behaviours.
300g Housing with reflective high vis reflective collar.
Hardware
uBlox GPS receiver: most up to date receiver speciliased for wildlife tracking
Quad and Penta band mobile phone engine: Works in every corner of the world where GSM services are available.
Coded UHF Beacon and Transmission: In USA 916MHz, Rest of World 863-870 MHz: Last recorded GPS location always transmitted within coded UHF pulse. No need to triangulate.
Memory
Up to 512k locations; essentially no limit. Data never lost from unit. Data transmitted in real time for immediate visibility and later download.
GeoFence
Enter coordinates. If the animal goes beyond that boundary an alert is sent to your mobile by text and computer by email.
Transmission of GPS Location Data using GSM Connection
Data sent from Buffer: GPS Data is collected and stored into buffer (in addition to storing to archive) ready to be sent upon next GSM 3G or 4G connection.
Data sent from Archive: GPS Data is collected and stored into archive (locally) on board the unit and is extracted upon an explicit command from our servers. GPS data to be stored into archive can be collected more frequently than GPS data stored into buffer. The interval between successive GPS location points stored into archive and successive GPS location points stored into buffer can be different. GPS power drain is extremely small while GSM power drain is very high particularly where 3G and 4G signals are poor. Therefore, in poor GSM areas, we can set the archive GPS data to a high rate - 15 minutes for example, while the GPS data to buffer can be far lower - 4 hours for example. When the unit connects in poor service areas, then only a small packet of data is sent from the buffer which is more likely to be successful. When the unit comes into a better service area, we can then request to download all the data out of archive.
All data downloaded via 3G/4G are included within the monthly airtime costs.
Data sent Immediately: GPS Location Data is collected (stored into archive and buffer) and is sent immediately by SMS text. Sending data via SMS text in this manner will incur additional charges and is outside the scope of the monthly airtime costs.
Transmission of GPS Location Data using UHF Beacon/Connection
Beacon: Every 4.3 seconds, the unit transmits a pulse from the UHF beacon - just like a standard VHF radio tag. The unit can be tracked using the same triangulation methods used for tracking standard VHF tags. However, the unit will also transmit the last recorded GPS location (Lat Long) which is displayed on the hand held receiver.
UHF Comms: Every 10th pulse, the unit adopts a listening mode. If in that time, the unit receives a message from the hand held receiver, then the unit will turn on and transmit all saved data in the archive.
Line of site the beacon and data download will work over 5km and in some cases up to 15-30km.
Using the Web Interface
Support
Support is via email/web/phone. While on the animal, our engineers monitor the units to ensure that they are connecting to masts, collecting GPS and for battery usage. We will inform you if the battery usage is too heavy or whether you could get more fixes. Battery usage is determined by view to the sky and proximity of cell phone masts.
Warranty
All units are covered by a warranty against mechanical or electronic failure for up to 1 year. Visit www.gps-collars.com for full terms and conditions of sale.
Delivery
Delivery is within 8 weeks of order.
Payment in full upon order.
Sign Up For Our Newletter
For offers and the latest news on our case studies